Industry Leading Bill Validator
Vantage bill validator is an industry-leading solution with a host of advanced features for highest in-service time. Extremely robust and flexible, Vantage is designed to enhance operator business by maximizing profitability.
Designed to meet the needs of the industry
More robust
More reliable
More profitable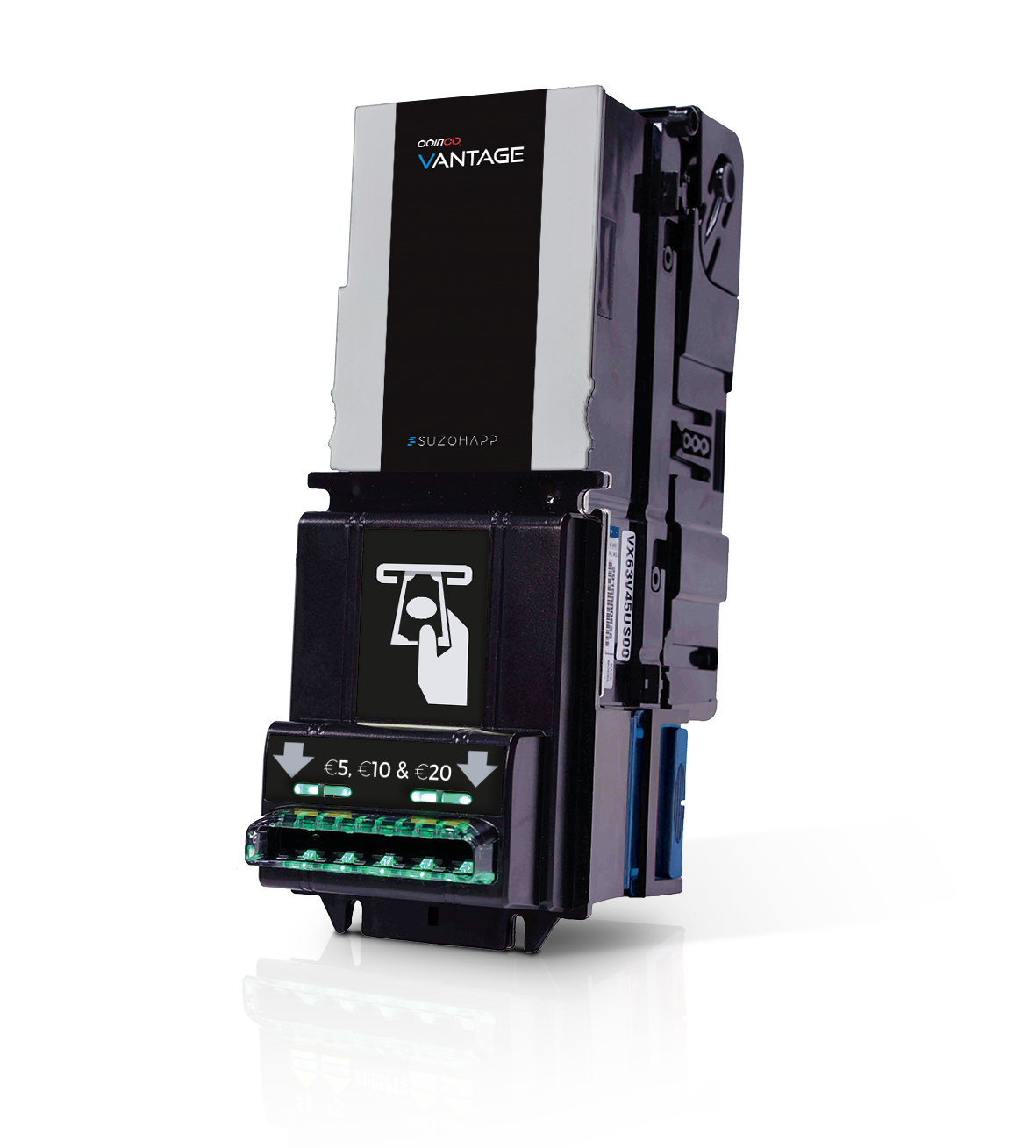 Increase Your Profits with the Vantage Advantages
---
More Robust
Innovative technologies enhance reliability and security
Fourteen sensor pairs scan more of the bill. Multiple analysis technologies increase acceptance, while eliminating frauds
Streamlined bill path and intelligent bill transport software reduces jam conditions providing highest in-service time
Level Three Cashbox Lockout Technology provides industry leading security by completely blocking bill path access to the cash box
More Profitable
New features to increase your in-service time and sales
Centric driver roller provides highest acceptance rates for skewed bills
Automated self-diagnostics and visual bezel notification guarantee your validator is always ready to accept cash
Smart BezelTM increases sales by communicating, for example, 5 - 10 and 20 bill acceptance in real time
Teach-N-Go coupon technology offers fast coupon enabling for unlimited promotional opportunities
More Flexible
Easier to install, service and update
Quick-release bezel expedites installation and removal, even for tight installations
Tool-free disassembly for easier servicing
Illuminated bezel and status indicators simplify setup and troubleshooting
Broad range of support tools and accessories available to meet your specific application
FlexStack® cashbox holds over 500 bills*. It maximizes bill capacity and reduces machine visits
Quick-release bezel
This feature allows the customer to mount just the bezel into the vending machine and then simply snap in a Vantage and connect the harness. Vantage can now be easily removed by pushing on the two light blue tabs (one on each side of the validator) and pulling it out of the machine for servicing if needed, and no tools are required.

The Basic bezel is available in a metal version (66 mm only) to help prevent vandalism
SUZOHAPP Netherlands 2021. Alle Rechte vorbehalten.